In his study on the art of Khalid Al-Jadir, 'Adil Kamel said: "Khalid Al-Jadir's art work is overflowing with joy. It is a happiness that parallels in a way the quiet and sad trait of the Iraqi' ever changing nature."
Al-Jadir would depict his villages based on a panoramic approach, like that of a bird's eye brushing the scenery it flies over. Al-Jadir conferred artistic beauty to the ugly scenes of real life. He came up with the most beautiful pieces while depicting the destitute villages, their poor population and their misery. Those pieces were the outcome of ongoing suffering and a deep consciousness of the people's deprivation in the world and especially in our societies.
Al-Jadir spoke about that with the Iraqi poet Bulend Al-Haidery in an interview saying, "I paint what reaches my heart and what I feel. I paint with my feelings because I am a humane being who experiences a particular social suffering and I need to express it. For these reasons, my paintings are so clear and so gloomy. They are gloomy in their details."
The artistic image that Khalid Al-Jadir added to the history of art generously conveys its joy to the viewers thanks to its unique expression, characterized by an outstanding impressive simplicity. Khalid Al-Jadir's artistic image is loaded with dramatic and tenderness, which reveals a joyful spirit and a feeling of melancholy. And despite his optimism, he carries blue memories within himself. Khuloud Nouri, the Iraqi writer says that the paintings of Khalid Al-Jadir bear the print of a "sad happiness".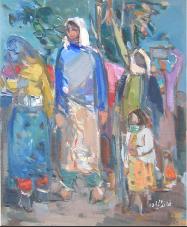 The peculiarity of Al-Jadir's art stems from the fact that one painting can reflect all the elements that make up the artistic image of the author. This implies that it is quite possible to find the various aesthetic values and testimonies of his technical abilities, namely liveliness, active beauty, energetic tension of spiritual and dramatic expression, tenderness, and humane warmth, gathered together on a single work.
I recall having often heard people visiting his exhibitions express the impression they got from the genuine artistic vision the artist conveyed through his painting. It seemed to them as though the artist had blown from his spirit into his painting and endowed the image with life, generating in the viewer emotions, astonishment and bewilderment, both intellectually and visually, just as love-at-first-sight would do! Isn't that the true message of Art?
The unity in Al-Jadir's work comes from an organic fusion of four key factors: oil painting, sketching, the institutionalization of the art sector and scholarship.
This is what gave his art heritage a unique life, allowing it to go beyond the reaches of mortality.
His student, the writer and painter Munir Al-Ubeidi wrote:
"Al-Jadir's knowledge of colours and their chemical formation are exceptional... apart from the above Al-Jadir was cognisant of Art history in an extensive and universal form. Although the PhD doctorate he received was on the History of Islamic Art, his in-depth awareness of the development of Fine Arts – universally and the European in specific – enabled him to present a theoretical force reinforcing the Fine Arts capability and his applied and practical teaching aptitude.
If some of Iraq's prominent artists like Faiq Hassan enjoyed technical skillfulness but did not have the corresponding theoretical, critical and analytical knowledge, Al-Jadir had analytical and critical ability upon which basis he was able to point out the departure modes of artwork from its obscurity and impelling it forward."
Al-Ubeidi added, "In comparison with other Iraqi artists, those who do not transcend him artistically and intellectually such as Jawad Salim and Faiq Hassan, not even in comparison with artists such as Hafidh Al- Durooby, Al-Jadir did not receive due critical attention either through in-depth study or serious thorough analysis for his sketches and oil paintings."
The media, as well as the notes of the visitors of his exhibitions are rich with comments of those who had a chance to appreciate his art.
He said about himself: "As a student, I was very much influenced by my teachers, though this influence did not last for a long time. After my learning journey ended, I found my own way to translate myself and the influences surrounding me. My work thus contains a three-dimensional, compact content including: my personal reality, my social reality and my very close relationship with my epoch."
He added, "The immortal art is the one that is inspired by the people, by the masses. The one that does not fade away easily, it requires ages before it could collapse. And even if it does, the nation still looks back to it as an integral part of its own history.''
He says about his epoch and his society: "I am one of the witnesses of my own epoch, observing nature, environment and scenes surrounding me. I am also fond of traveling and love countryside scenes and historical monuments. I depicted the renowned monuments in an expressive and reflective way, in that I reflect on the structure of line, the color and the composition, that is to say, I blow an intellectual spirit into the scene, as well. My works do not belong to the Impressionist school, they reflect a personal vision. This is a novel school, I do have my own style."
Khuloud Nouri said: "His art is a spokesman of the Iraqi society with its nature and clay colors…His works have historical documental value."